From the makers of Five in a Row, is a delightful book for children ages 2-4.  It's a literature approach to learning, which I love!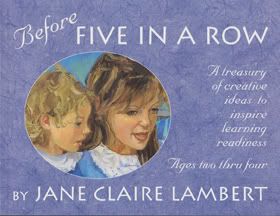 The first half of the book is dedicated to specific books, books like:  Goodnight Moon, The Runaway Bunny, If Jesus Came to my House and Corduroy.  There are a total of 25 stories with corresponding activities.  The idea of Before 5 in a Row is to read which ever book you chose, each day, for as many days as your child wants.  Most children LOVE hearing the same story over and over again, I know mine do!  Then each day you can do an activity or two that relates to the book.  Before 5 in a Row is full of ideas that cover areas such as:  Bible, Language Arts, Loving Relationships, Art, etc.  You can spend a long time (weeks) on one book, or you can spend a day or two.  It's parent and child directed learning.
The second half of the book is called "Parent's Treasury of Creative Ideas for Learning Readiness"  and is packed full of ideas to get preschoolers ready for learning. 
I love the gentleness and the tone of this book.  I wouldn't hesitate to give it to somebody who had young children who they are considering homeschooling.  This book isn't a curriculum but could easily be all you use for your child's earliest learning years.
Before 5 in Row sells for $35.00 and can be purchased from Rainbow Resources. 
To see what other reviewers for the Old Schoolhouse had to say, visit the crew blog!
Joyfully,
Mrs. Taffy
Disclaimer-As a member of the Old Schoolhouse Crew I was given a copy of this book for free in exchange for my honest review!  I was not paid.