Once again I've had the privilege to review a recently revised book published by Apologia. Educating the WholeHearted Child, by Clay and Sally Clarkson, is basically an enormous manual revealing the heart of homeschooling and the heart of your child.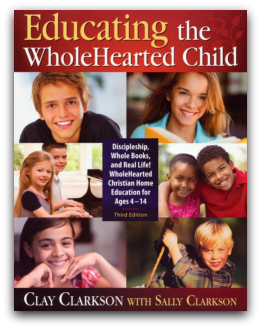 With a whopping 375 pages, you'll get more than just curriculum recommendations, what you're getting is a guidebook leading you down a path to create an environment of nurturing and growth.
Chapter 1 is called The Christian Home:  Learning to Be at Home with Christ.  If all you read was this first chapter, you would be well on your way to setting the proper foundation in your home.
"In the same way that we seek after God until we find him, children will seek after the kind of home and family life they instinctively desire, even though they are too young to do anything about it.  Every child bears the image of God, their Creator, in their soul.  Since the ideal of a godly home and family was part of God's original creation before the Fall and an expression of his creative nature, we believe it is etched in every child's heart.  Your child is made for and naturally longs for the home that you can provide.  If a child finds that kind of home, the vacuum will be filled and they will be more likely to find contentment and fulfillment that will shape the rest of their lives; if they do not find it, they will be more likely to seek to fill that vacuum with substitutes and counterfeits, and that futile search will shape the rest of their restless lives."
I found myself repeatedly reading snippets of this book out loud to my husband, I was just so excited to read so much truth and passion in one place!  I highlighted so many things to share with you, but fear you will grow weary of reading them on this blog!  So you'll just have to trust me when I say it's amazing!
Divided into 3 sections:  Home, Learning and Methods, you could be revisit this book for years to come and still benefit from it's wisdom.
I loved how the Clarkson's included "In our Home" snippets, to let the reader experience how they  personally did things.  The resource section in the back is loaded with ideas and worksheets to help you in planning and implementing the things you've learned.
Selling for $22.00 from Apologia, this book should be on your curriculum list, under the section: For Teacher!  If you are new to homeschooling and you can catch the vision of what the Clarkson's are teaching, you'll be way ahead of the rest of us!
To see what my other Crew Mates thought, visit the Crew Blog.
Joyfully,
Mrs.Taffy
Disclosure-I was given a copy of this book for free, in exchange for my opinion, I was not paid.