As part of the Old Schoolhouse Crew, I've recently been given the opportunity to review a "new to me" product called Excellence in Literature.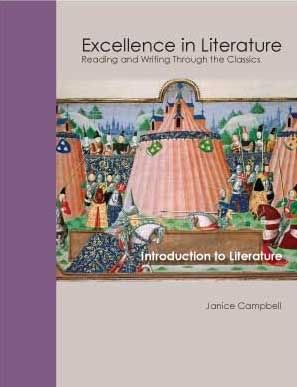 Self-Directed, Week-by-Week Lesson Plans

Classic Literature-Based

College Preparatory, with Optional Honors Track

High-School English for Home Schools, Private Schools, and Charter Schools
I received the e-book to review ($27.00), it is also available in a hard copy for $29.00 + shipping.  I have so many things to say about this great curriculum, I don't really know where to start! 
First off let me say that this is more student directed than parent taught, which I love.  Also it's written in a way that I didn't have any trouble understanding and neither did Strawberry.
The awesome thing about getting the ebook is that there are live links in the ebook.  As your child is working their way through the lessons, they can click the different links to either read the books/short stories or get more information about the author, etc. 
We started with the first Unit on Short Stories. I chose to get the books from the library as apposed to having her read them on-line.  Though there was one short story that we couldn't find in a book so the on-line version was perfect!
Here's the table of contents for the book we reviewed:
Introduction
Overview and Objectives for Excellence in Literature
Frequently Asked Questions
How to Read A Book
Discerning Worldview Through Literary Periods
***Units 1-9 compose the bulk of the book, providing guidance for weekly lessons.
Honors
Formats and Models
Approach Paper Format
Historical Approach Paper Format
Author Profile Format
Literature Summary Format
Sample Poetry Analysis
What an MLA Formatted Essay Looks Like
Excellence in Literature Evaluation Rubric
Excellence in Literature Evaluation Rubric for IEW Students
Glossary
Selected Resources
Strawberry loved the Format and Models section of the book, each type of paper is clearly explained with examples to follow.  Her first short story response paper was alarming in it's beauty and accurateness!
Here is what she wrote for the essay question portion of the response paper-
1.  In Sylvia's unknown loneliness, she almost succumbs to the stranger's friendly ways.  But in the end she stood up for the heron.  Do you approve of her choice?  Why or why not?
2.  Why was the offered money so special to Sylvia?  Is there a difference in the things ten dollars could have bought in 1886 compared to 2011?  Research this and write down your answer.
3.  In the end Sylvia gives up the ten dollars for the white heron.  What would you have done?  Explain why.
My daughter wants to be a writer, what better training than to be reading some of greatest writers of history?!  I honestly didn't know what to use to help her in her dreams of writing, but I can see clearly that Excellence in Literature will be on her school list for the rest of her high school career.  And the price…it's so reasonable!
Another amazing thing about this program is the Honors Option!  Strawberry has decided to do the honors track in hopes of CLEPing out of Literature.  I can't recommend this product enough, especially if you are like me and desire to equip your children with the ability to learn independently. 
Here is a more complete description of the program.  Here is sample unit.  And here is list of books that are used throughout the entire program.  If my big boys weren't doing PSEO I would have them doing this program also, as a matter of fact, when Chocolate Taffy saw the books that Strawberry gets to read he immediately said, "Hey, can I do that too?"  Need I say more?
Too see what my other Crew-mates thought, visit the Crew Blog!
Joyfully,
Mrs. Taffy
Disclaimer-I was given a copy of this ebook for the purpose of this review, I was not paid.