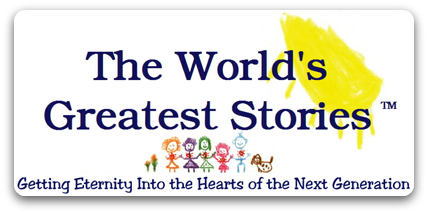 My latest review for the Old Schoolhouse is called The World's Greatest Stories.  If you are anything like us, you love to have wonderful CD's and possibly even a few Cassette Tapes around for your children to listen too.  We have been collecting CD's for YEARS!  My little ones are listening to CD's that we bought when my teens were little.  Even my teens enjoy listening to those CD's, now that they are older, and the happy memories they invoke.
Well, here's a new set of CD's to add to your collection.  The World's Greatest Stories is the Bible, alive on CD. 
We received Volume 1-The Prophets.  George W. Sarris is the mastermind behind this high-quality production.  His CD's are Bible and nothing more but so much more.  He reads the Bible, word for word, from either the KJV or NIV version of the Bible.  His voice changes with the reading, appropriate to who is speaking and what is being said.  There's also sound effects and music.  You can hear a sample here.
I love it that he's reading the Bible, not adding to it, not taking away from it.  My children loved it too! 
Turning it UP!  He didn't want to miss any of it!
The price is very affordable as well, $7.95 for a CD or Cassette.  He has several different portions of the Bible to choose from.  Visit the The World's Greatest Story Website to learn more about Mr. Sarris and his vision.  And visit the crew blog to see what other Crew Members thought!
Merry Christmas!
Mrs. Taffy