I've recently reviewed another on-line learning environment, this one called K5.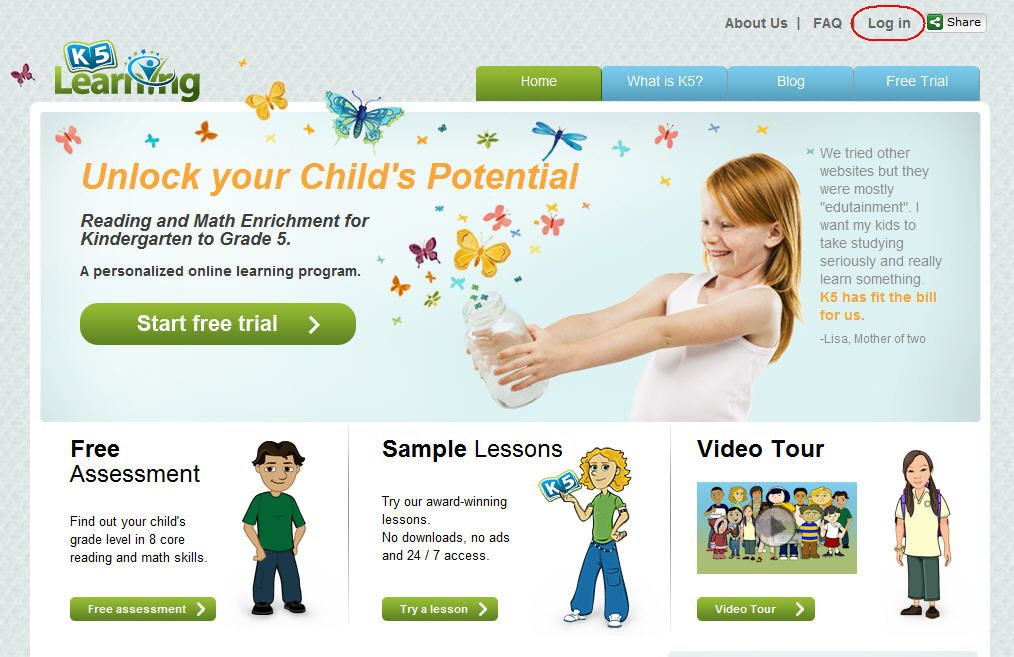 K5 is for children grades K through 5 and focuses primarily on Math and Reading.  Right away we needed to do the assessment as the lessons start out a little easy, I think this is because we are almost done with this school year, so though my children are technically in 1st and 3rd grade, they are almost through their 1st and 3rd grade year.  The Assessment was a  bit long, but Blue Raspberry didn't seem to mind it.  It did cause Bubble Gum stress, especially if she didn't know the answers and you aren't supposed to help your child, I wasn't sure if that meant don't read the questions to them either…I read them to her, but in doing so I may have skewed the results a little.  I didn't want her in tears right from the get go!
I love the simplicity of the page where the child chooses activities.  Hand's down my children liked the Math Facts portion the best.  After a brief lesson and practice in certain Math Facts, they would get to take a timed test.  If they were fast enough, they would earn mastery in that fact.  Then they would earn some arcade time where they would get to use those new facts to play games.  They were only given about 5 minutes for the games, then if they wanted to play some more they had to do some more timed tests.  Now even though they really liked this, they did get frustrated because they had to be SUPER fast for mastery.  I didn't feel this was fair for the 1st grader.  She knew the answers but her fingers weren't fast enough for the program to register her answers as mastery.  They get a handy little chart to view their mastery, it's all colored coded and cheerful, but my 1st grader could not get any of her facts to light up in the right way because her fingers just weren't fast enough.  She still earned the arcade time even without "mastery" but she would have liked to see it reflected on her chart and I would have liked to been able to go in there and mark them mastered because I knew I she knew them!  There is a spot in the parent section to turn off the timer…I wish I would have seen that sooner.
Some things I want to mention about K5-
In Laffy Taffy's Spelling Section there was evolution in relation to dinosaurs.
There is Anime type animation in the Reading Section for 3rd Grade.
Bubble Gum had issues with the teacher's voice in her spelling section, so much so that she had to stop!
There are lots of depth to this website, especially where you as the parent is involved.  You can add spelling words, assign lessons, look at lessons and reports and so much more.
K5 gives a free 14 day trail so you try it out for yourself.  Here is video that explains the program.  Here is the cost break down.
First Child: $25 / month or $199 / year.

Additional students: $15 / month or $129 / year

This includes unrestricted access to all grade levels in K5 Reading, K5 Math, K5 Math Facts and K5 Spelling. You can try K5 for free (no credit card required) with our 14-day free trial.
If you want to see what my Crewmates thought of K5, visit the Crew Blog!
Joyfully,
Mrs. Taffy
Disclaimer-I was given a 6 week subscription to K5 in exchange for my opinion, I was not paid.