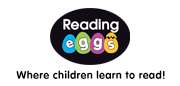 Reading Eggs is an on-line learning tool that encourages reading through games and activities.  There are 4 levels of learning that cover children ages 3-13.
I really liked this for Laffy Taffy (4).  The program let him interact with the letters and their sounds in a fun way.  He had some trouble with the mouse, but he got better at it as time progressed.  Though he could not do the activities that required speed, and there a few that the he had to be able to mouse quickly to get beyond it.  We just did those sections for him.  Also, I did not let him go into the interactive world at all, the world where he uses the eggs that he's earned to "buy" things for his "house" and all that.  I didn't feel he really needed the extra incentive, he was just happy to be playing on the computer.  This is a screen shot from his page.  There are worksheets that correspond with the lessons too, beware though, they have a lot of color and would NOT be cheap to print! 
Bubble Gum really liked Reading Eggs too.  She especially liked the incentives, where if she finished a lesson, she would get to spend her eggs on things for her home.  It did bother me a little because it became more about the arcade games and the shopping experience than about the learning and reading.  So then I felt like I was being a meany "making" her do a lesson first.  (smile)  Below is her screen shot.
Honestly I did not like Reading Eggs for Blue-Raspberry.  I couldn't really figure out how he was supposed to be expanding his reading and comprehension. 
This is the place were his activities were taking place, but there weren't lessons to work through, mainly games to play.  On the dashboard where the three kid's progress is tracked he never made it through a lesson, but he spent lots of time playing grammar games and buying things for his avatar.  I know there can be a place for learning games in education, but Blue-Raspberry has an ability to get fixated on something and it becomes a problem, in this case he became fixated on changing the clothes on his avatar.  Anyway, I just prefer him reading real books to expand his reading and comprehension rather than playing computer games and worrying about avatar accessories.
Reading Eggs offers a 5 week free trail so you can see if it's a good fit for your family.  If you decide you like it you can buy a yearly subscription for $75.00 or a 6 month subscription for $49.95 or a month subscription free of $9.95.  They also sell books that correspond with the reading lessons.  You can read more about the pricing here. 
To see what my crewmates thought about Reading Eggs, visit the Crew Blog!
Joyfully,
Mrs. Taffy
Disclaimer-I was given a 2 Month Subscription to Reading Eggs in exchange for my honest opinion, I was not paid.