Being what I call Classically Relaxed, and having children in each of the 3 stages of learning:  Grammar, Logic and Rhetoric, I am excited to share with you a product that is a great help with teaching logic to your classically minded student.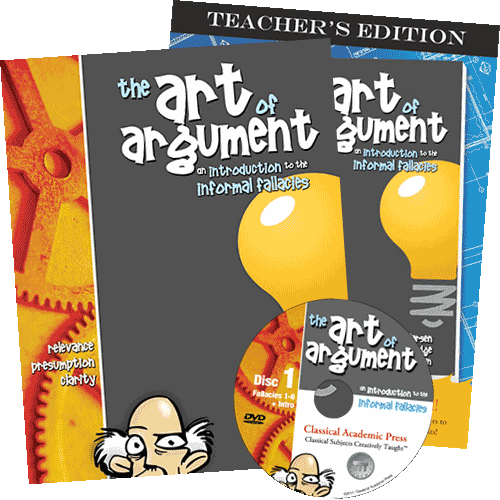 Using the Art of Argument students learn to identify 28 fallacies, broken down into 6 chapters.  There are chapter tests, unit tests and a final exam in the Teacher's Book. 
I've used this curriculum with my older 2 and Strawberry will doing this in her 10th grade year.  The study is geared toward Junior High Students, so this is where the "relaxed" comes in. (We are a little behind, but I like relaxed better.)   I love the tone of this book, written to the student, in a conversational style, with pictures, examples and activities to work through the fallacies.  Our mode of operation has been to learn 2 fallacies a week, followed by the second book in this series called Argument Builder.  Each could easily be expanded to a year's worth of learning, especially if using with a younger student.
Along with the teacher book and student book I was given the 1st DVD in the optional DVD set that complements the curriculum.  The DVD's show a teacher and students discussing the different fallacies.  I think this is a fantastic recourse, though it's not necessary for mastery.
The Art of Argument Student Book is $21.95, you can see a sample lesson here.  The Teacher Book is $24.95, I highly recommend this if you want to be able to correct your students work without reading the book yourself and if you want to administer the Chapter, Unit and Final Exams.  Here is an example of the Teacher Book.  Another option is the bundle, which sell for $99.95 and includes both books and all the DVD's. 
The Classical Academic Press website has many great resources and samples, I encourage you to visit the site to learn all you can in deciding if the Art of Argument can help you teach Logic to your students.
Joyfully,
Mrs. Taffy
To see what other Members of the Old Schoolhouse Crew thought, visit the Crew Blog!
Disclaimer-I was given these products in exchange for my honest review, I was not paid.  All opinions expressed are my own.