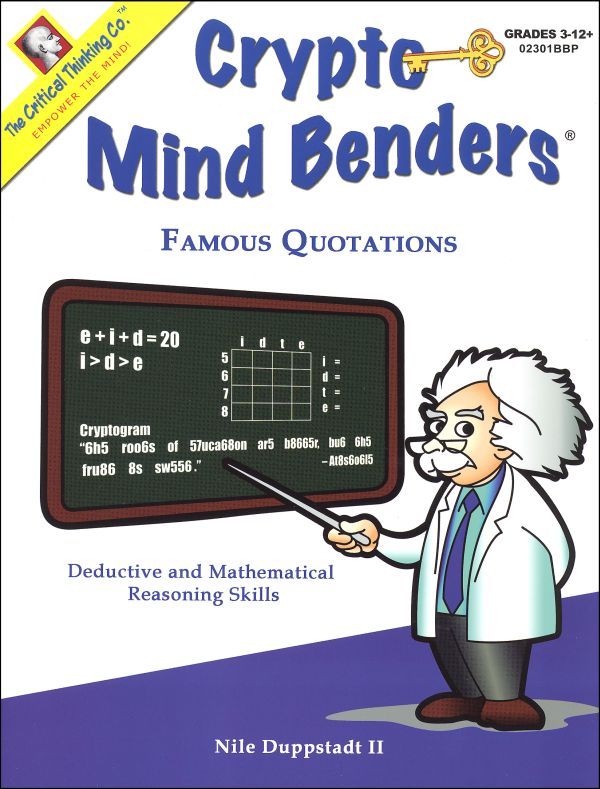 What a great no-nonsense thinking skills book!  Introducing Crypto Mind Benders: Famous Quotations by The Critical Thinking Company.  Designed for children from third to twelfth grade and selling for an easy $10.99, Crypto Mind Benders makes a great math warm-up exercise or summer math activity.
At first I thought these might be too hard for Blue-Raspberry, after all, these are were REALLY hard for me!  But thanks to my super smart 16 year old, Blue-Raspberry got a lesson in solving these fun puzzles and now he's a champ!  (And I am too!  Thanks Chocolate Taffy!)
These cryptograms add an extra element of learning as the famous quotations often lend to a great discussion on, "What in the world does that mean Mom?"  The Critical Thinking Company lets you make copies within your own family, so I was able to give puzzles to my teens too.  Some said, "oohhhh FUN!"  One said, "oooohhh ugh!"  He's like me…he just needed a lesson from Chocolate Taffy!  If this sounds like something you would like, click here for free printables that introduce cryptograms and other logic puzzles.
Joyfully,
Mrs. Taffy
To see what other Members of The Old Schoolhouse Crew thought of this and other Critical Thinking Co. books, visit the Crew Blog.
Disclaimer-As a member of the Old Schoolhouse Crew, I was given this Mind Bender book for the purpose of this review.  All opinions expressed are my own and I was not paid.