CapJaxMathFax is a math drill program designed to give children the opportunity to practice their math facts in a fun and interesting way on the computer. 

No flash cards here!!
Details:
Uses a computer to provide drill and practice so that practice time is not limited by teacher availability.
Automatically generates exercises. Teachers don't prepare quizzes. They merely provide the parameters for them.
Builds exercises for any of the four math tables (addition, subtraction, multiplication, division) or any combination of tables.
Guarantees student success by taking small steps through levels of
difficulty.
Can focus practice at a single level of difficulty or may review earlier levels.
Randomly generates problems without repetition.
Allows variable numbers of problems in an exercise.
Reduces learner stress by timing facts individually.
Provides immediate positive feedback for correct answers.
Provides extra reinforcement for fast, correct answers.
Displays an overall performance report at the conclusion of each exercise.
Prints reports for teacher review and for use as certificates of achievement.
Displays and prints item diagnostic details.
Uses a rating system that allows students to keep personal scores and
set goals.
Charts student rating progress graphically.
Maintains a database of student activity over time. (From the website)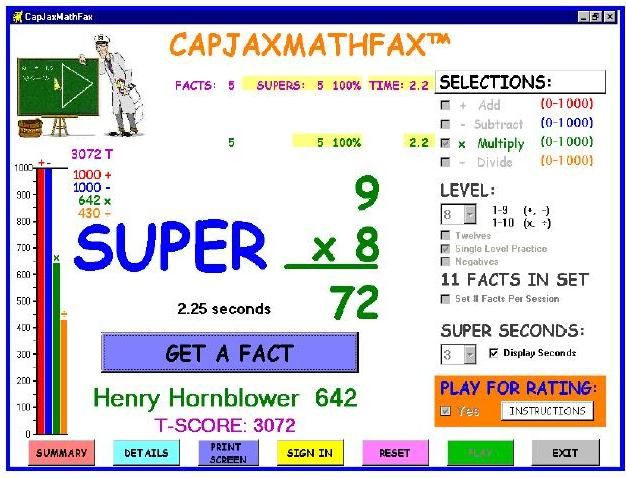 My Thoughts:
Initially I was very excited to review this program.  I did have a somewhat difficult time with the downloaded version that I reviewed.  There were two reasons for the difficulty, one being that the downloadable program is relatively new so Norton did not think it was safe.  I bypassed that issue without any problem, but then Norton went on to detect something that wouldn't let me complete the full download.  My husband preferred that I not shut off Norton to complete the download, and since he's the "keeper of our many PC's" I submitted to that request.  So rather than not review any of the product I was able to explore only the addition portion of the program  While it would have been fun to see all of it, I can say with certainty that the addition portion was very educational!  It was great fun to see how quickly we could get the answers to the equations, trying to improve our time was very motivating. 
The program has a very "vintage" feel to it.  The graphics aren't what I'm used to seeing in a Math program but that didn't detract from the educational benefits and in some ways added to its appeal, no extra flashy distractions here!
CapJaxMathFax is available for download for $29.95.  You can check out the addition portion of the program for free here.  If you love it and find it beneficial like I think you will, you pay the $29.95 which gives you access to the rest of the program which covers addition, subtraction, division and multiplication.
My crew mates were able to use the whole program and you can read about their reviews on the Crew Blog!
Joyfully,
Mrs. Taffy
Disclaimer-I was given the whole downloadable program to review in exchange for my honest opinion.  Even though I couldn't see the whole program, the opinions expressed her are my own and I was not paid.