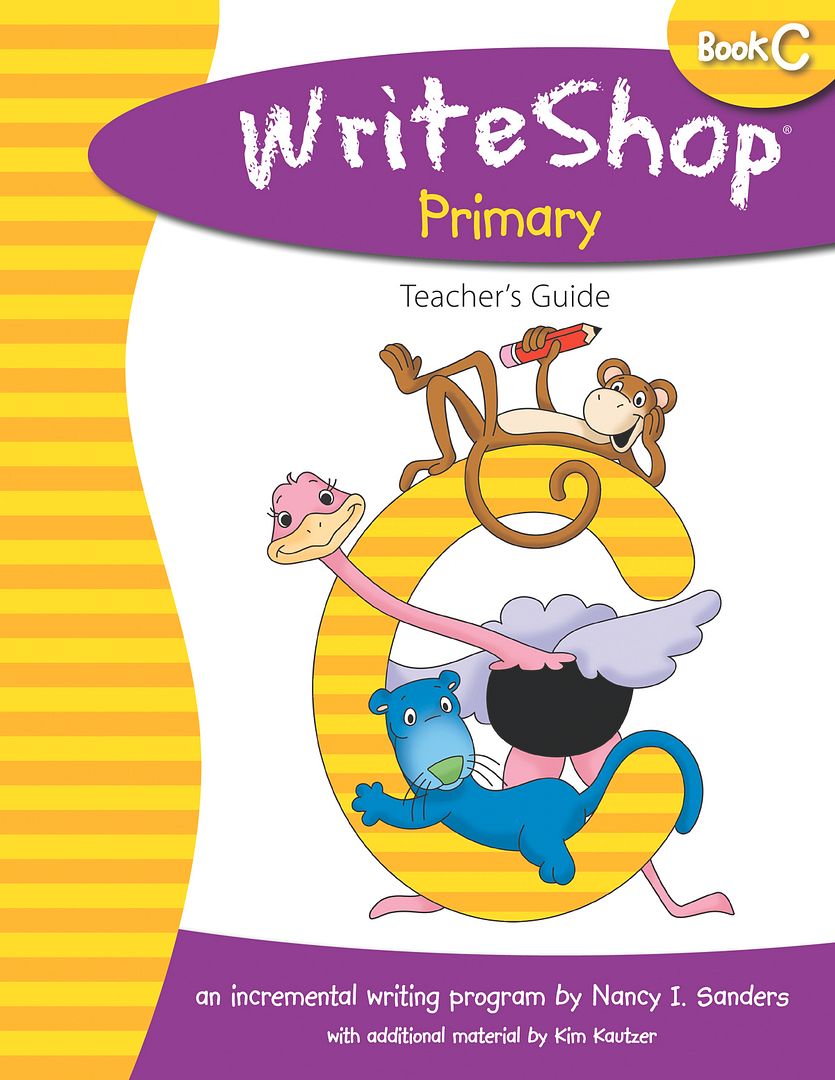 Write Shop Primary Book C is a writing program for children around 3rd grade.  Each level of Write Shop Primary has some wiggle room for when to use it.  The guidelines for book C are as follows:
Start with Book C if your 7- to 9-year-old is not yet able to:
Plan the main ingredients of a story before beginning to write.
Ask who, what, when, where, and why? in order to add story details.
Organize story details.
Write entries in a personal journal.
Use descriptive words in his writing.
Write a short nonfiction article.
Summarize the contents of familiar books.
Collect research facts about a specific topic.
Write a simple, short report with introduction, body, and closing.
Use standard spelling.
Check his own work for correct spelling and punctuation. (from the website)
Blue-Raspberry hasn't had much experience in semi-formal writing, so this is the level that I picked to review.  Book C is divided into 10 chapters.  In the introduction of the Teacher Book there is instructions on how to teach the lessons using a schedule of either 1, 2 or 3 weeks to complete a lesson.  Depending on your child and your life circumstances you select the pace you want to take.  I have to be honest here and say that the e-book version was very confusing to me.  It's not that the writing was confusing but clicking between the introductory portion of the book that explains how to do the lessons and the actual lesson which explains how to teach and what to say, it was really hard for me to keep track of where I was and what I was supposed to be doing.  I know for sure that for me, having a printed version of this book would have made it much easier.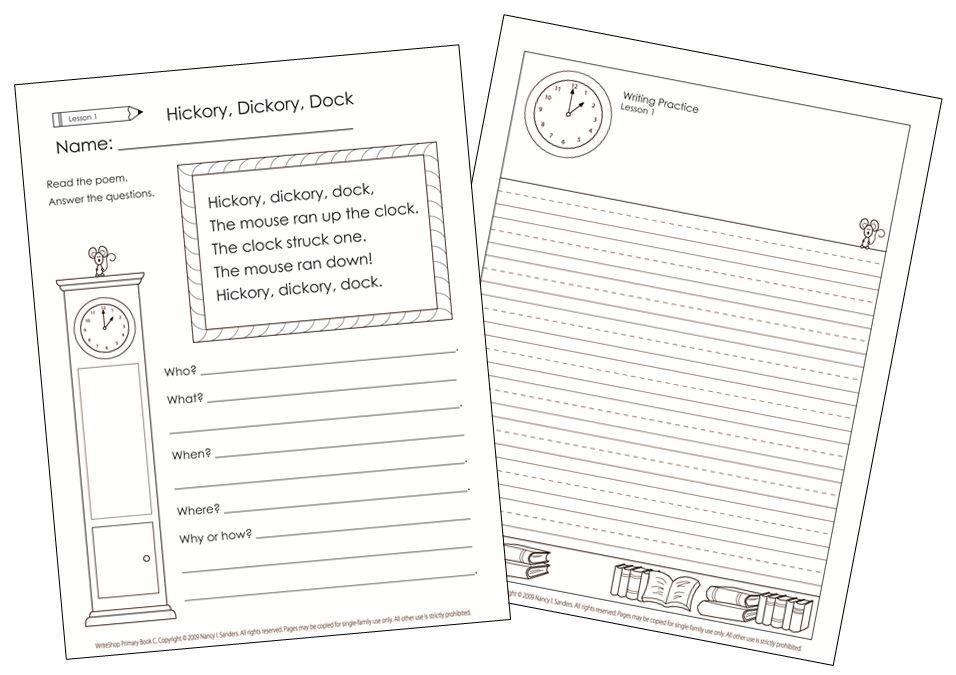 Blue-Raspberry is my child who loves school, he loves pretty much anything I teach him and really enjoys trying new curriculum.  This writing program was no different.  Personally, I think this program is VERY teacher intensive.  I needed lots of time to prepare for the lesson by making copies and cutting things out/laminating them, gathering props etc.  For a mom who homeschools 7 children (I'm including the baby) this was hard for me and it frustrated me a little bit.  While I love homeschooling, I'm not a teacher by profession or by gifting.  This book is geared toward the mom who really enjoys teaching and the prep work that comes with that.  Write Shop Primary is LOADED with possible activities to increase learning and mastery.  Besides the basic activities for each lesson there are also suggestions for MORE ways to get the topic learned.  If you like the Montessori teaching style or if you are a mom who loves to teach then this writing curriculum will serve you well!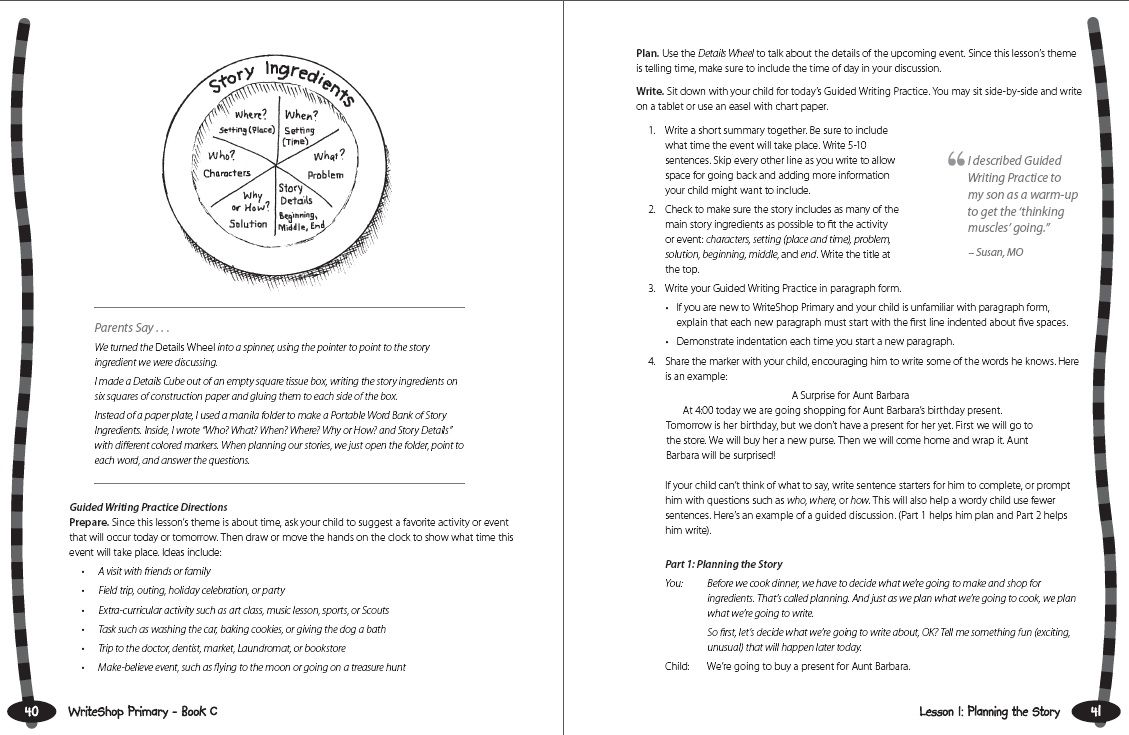 To see a sample lesson and an activity worksheet sample click here.  The downloadable version of the Teacher's Guide for Write Shop Primary Book C is available for $28.95.  It's 241 pages of instructions and lessons!  The worksheet ebook that corresponds with Book C is available for download at $4.50.
Other members of the Schoolhouse Crew reviewed this and other levels of Write Shop Primary.  To see what they thought of the program, visit the Crew Blog.
Joyfully,
Mrs. Taffy
Disclaimer-I was given the e-book version of both Write Shop Primary C and the corresponding Worksheet e-book for the purpose of this review.  All opinions expressed here are my own, I was not paid.