As part of the Old Schoolhouse Crew I was given the opportunity to review the on-line version of Kinderbach. Kinderbach is designed to teach 3-7 years olds the basics of playing the piano, including:  reading notes, rhythm, singing and composition.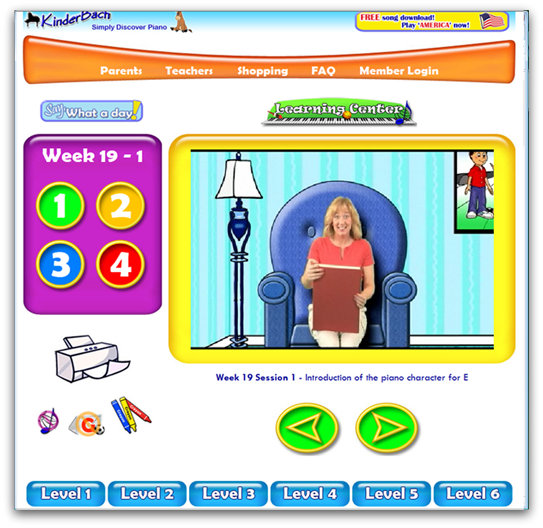 There are 6 levels of learning.  Your child systematically goes through the lessons at their own pace.  You can view the first few lessons here.  Each level has 10 weeks worth of lessons, there is an introduction and 4 activities for each lesson.
There are two ways to use Kinderbach, either on-line or through DVD's.
If you like the on-line learning environment you have two options, you can either pay $19.99 a month committing to a year long membership or you can get a "day pass" and do as much learning as you want too for $5.95.  Along with access to the learning videos, you also get access to PDF files that correlate with the lessons.  The files contain worksheets and coloring pages, to enhance learning and mastery.  There are also more coloring book pages just for additional fun. Kinderbach is also working to convert their videos to be able to be used on a iPad or tablet type device!  Here's a video to take a look!  Also, you can sign up to try the first couple lessons free!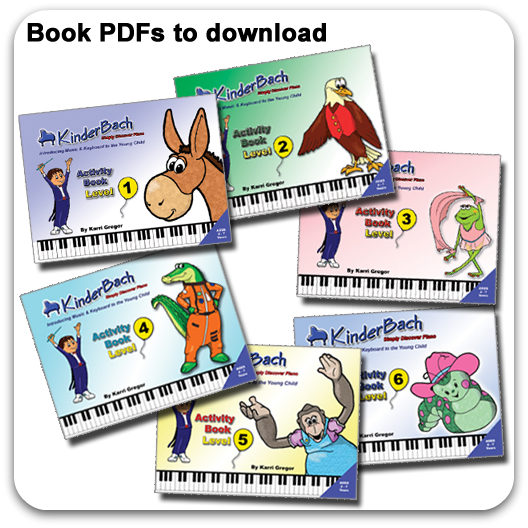 With the DVD packages you have so many options, I suggest you look here to see which one would work the best for you.
My thoughts…
You definitely will need access to a key board or a piano to make the most of this program.  One good thing is that you don't need a full size key board in order to do the program successfully! 
I didn't necessarily appreciate all the songs incorporated in the lessons, some of them were a little hard on the ears, if you know what I mean.
Some of lessons include the teacher doing magic…not teaching magic, but using it as a transition from one topic to the next. 
Also, sometimes the teacher is dressed like a clown.  I know a lot of people have issues with clowns, so I thought I would mention it.
The video screen size bothered me.  I couldn't "make it bigger" so it was a little challenging for 2 children to watch it at once.  They did fine and most of it is auditory anyway.
Each lesson is very short, this is great for short attention spans, and it also means it's not too big of a commitment should your child want to do several lessons in a one sitting, which mine did. (smile)
I do believe this program can and will provide excellent results though.  It's such a fun and easy way to teach piano to young children, without ever having to leave your house.
If piano or musical understanding is something you are passionate about teaching to your young ones, or even if you aren't passionate about it but still would like them to have the exposure without the expense and commitment of private lessons, this is a beautiful program that will do just that!
Joyfully,
Mrs. Taffy
To see what other Crew Members thought, visit the Crew Blog.
Disclaimer:  I was given this 3 month membership to the Kinderbach website in exchange for my honest review, I was not paid.